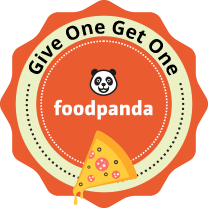 I love Food Panda's Give One Get One Contest for 2 reasons: one, I like to win an Instax Fuji film instant camera ~who doesn't, right?; Two, I never thought to ask questions to my favorite blogger, asking questions to someone whom I admire seems awkward and I feel a little shy.
Guess who is my favorite blogger?
Well… before I reveal it to you I want to tell you something about her first…
I met her last year, she runs a Facebook group for mommy bloggers only.  What I think is super special about her is her warmth towards her group members… I noticed her Facebook messages always starts with Hi and she always personalizes it with the name of the person she's talking to.  I can tell they are always sincere and true at it's all form walang halong pagpa-panggap .  That gets me…  so I played detective (or stalker?), I check what her blog is all about, I viewed her photos on Facebook and even checked some of her old conversation in the group.  I discovered her personal blog which talks so much about her adorable family and their pet Chewie!
Besides her personal blog, she keeps her Facebook group's website too, where she facilitates contest from companies, like this one from Food Panda.  She also works at home and get paid in $$$.
Can you believe that???
A blogger, a work-at-home gal, and a homemaker all rolled into one?  She's probably a ZOMBIE like me.
*Big grin.*
I will cut the chase short and introduce with you my nominee…
Drum roll please…
And I nominate the best of the best.  A mommy, a wife, a foodie, a work-at-home advocate, a blogger, and the queen of Mommy Bloggers Philippines.
Lanie Lluch of Tweenselmom.com
 (yes, yes, I'm in the picture too…)
And my question is:  What makes you an uber passionate blogger?
I'll be looking forward to hear from yah!
Now, since we all know that blogging is a give and take relationship, I also got nominated by the beautiful (inside-out) Louisa… just like Lanie and I, she's also a Zombie.
And she has a couple of questions for me:
1. Why I have enough time for everything ~ family, hobby, work and etc.
2. What is my favorite successful dish so far?
3. Where do I see my self and my blog in 3 years?
And here are my answers:
1.  The truth is I don't have enough time, but I always MAKE time.  Everyday, I put first all the crazy things I want to do… for example, today I want to do crafts with my children, regardless how busy my schedule is at work I do it!  My work can wait… I'm empowered by the things I WANT to do, I'm a crazy bitch most of the times, yah know.  If there's a downside I guess because of the soooo many things that I want to do and try each and every day I keep myself away from something that is more important.  Sometimes, I used to think if I will just focus on one or two things that I'm really good at, I'll be a bit more successful than I am now.
2. My first successful dish?  I guess it was adobo.  I remembered my husband said this: Ito na yata ang pinakamasarap na adobo na natikman ko. 
3. In 3 years? I want to be famousssssss… I want my face in billboards and in TV commercials… I want my readership in my blogs to reach 1,987,093 daily.
See, I 'm pretty UNambitions… thank you Louisa for all the beautiful questions.
Cheers to all the superstars that lies deep within us may they awaken and take over the world!
Hope you love reading my post today ladies!
You might also fancy